Funeral held for abandoned baby girl found in Oxford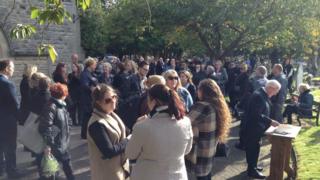 An open funeral is being held for an unknown baby girl found abandoned in Oxford.
The stillborn infant was discovered on a footpath in February. Thames Valley Police failed to identify her family despite appeals.
The funeral at Wolvercote Cemetery, organised by Oxford City Council, has attracted dozens of mourners, some of whom travelled from London.
Police named the baby 'Raihana', meaning 'heaven's flower'.
Suzi Horsley, 33, from Oxford, lost four babies during pregnancy, but went on to successfully give birth to three.
She said: "I felt quite strongly that she should be mourned, and that her mother should be supported as well.
"I hope she sees the coverage of today and sees that there is a network of mothers who understand her loss and understand that pain."
One woman, who travelled from London but did not want to be named, said: "Everyone should have someone to say goodbye.
"Nobody should have their life ended with nobody there. This poor child was born alone, and left alone."
'Dignified funeral'
Det Insp Jim Holmes said he had initially feared that no one would turn up to the funeral, but that people had travelled from across the country.
He said: "We have been inundated with responses. This has touched the hearts and minds of this community and across the country."
Det Insp Holmes added that Thames Valley Police would continue to search for the baby's mother.
The Sands charity has so far raised £2,364 for families affected by baby loss after a Just Giving page was set up called Remembering Baby Raihana.
Councillor Alex Hollingsworth said: "Everyone, regardless of their personal circumstances, is entitled to a dignified funeral.
"In tragic cases like this, the council ensures that this responsibility is taken care of."