Pamela Anderson tells Oxford Union online porn "corrosive"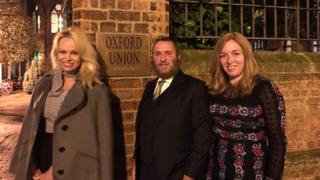 Former Baywatch star Pamela Anderson has warned students about online pornography in a talk at the Oxford Union.
She spoke alongside Rabbi Shmuley Boteach, an American author, TV host and public speaker.
The pair recently warned that consuming porn could have "corrosive effects on a man's soul" in a Wall Street Journal article.
At the union, Anderson said she feared the "numbing effect" of pornography.
She said: "I'm worried about how violent pornography can lead to violence against women.
"I'm just trying to encourage intimate, loving relationships which are safe and inspiring."
Rabbi Boteach told the Oxford Union Anderson was a woman of 'courage', and that it is not easy for somebody in her position to speak about the way women are treated.
He said pornography was damaging relationships: "There is a portrayal of women that actually subverts lust and creates complacency."
Rabbi Boteach argued it had killed off "marriage, female sexuality, female libido and finally sex itself" because it broke the connection between lust and love.
In their Wall Street Journal article the rabbi and Pamela Anderson wrote: "Porn is for losers - a boring, wasteful and dead-end outlet for people too lazy to reap the ample rewards of healthy sexuality."
It was not Anderson's first visit to the Oxford Union - in 2010 she spoke to students about vegetarianism.