Adrian Greenwood stabbing: Rare book found at defendant's home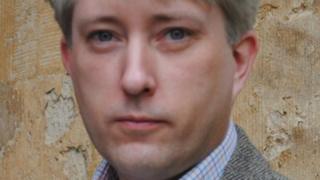 A rare copy of Wind in the Willows worth £50,000 was discovered at the house of a man who stabbed the book's owner to death, a court has heard.
Book dealer Adrian Greenwood, 42, was found dead at his Oxford home in April.
Michael Danaher, 50, from Peterborough, denies murder and claims he killed him in self-defence.
A jury at Oxford Crown Court was told police found the first edition in the defendant's home alongside a list of potential celebrity targets.
The prosecution alleges the motive for the killing was the theft of the valuable book.
Giving evidence, Det Sgt Richard Earl from the major crime team said Mr Danaher had searched celebrity addresses on his phone.
His smartphone had a folder titled "Enterprises", which listed Eamonn Holmes, Michael Parkinson, Rio Ferdinand, Simon Cowell, Katie Hopkins, Kate Moss and Greg Dyke.
Darren Ferguson, the son of retired football manager Sir Alex Ferguson, was found on a separate list on the defendant's laptop.
The jury was previously told by the prosecution a spreadsheet on the defendant's computer had names of "people of means" whom he intended to steal from or kidnap.
It had details of valuables, weapons and family members of his planned victims, with a stun gun listed in many cases. A stun gun was found in Mr Danaher's flat by police.
Mr Greenwood had 17 items advertised on his eBay account, including the first edition of Wind in the Willows, the court heard.
The trial continues.