Horton midwives submit formal grievance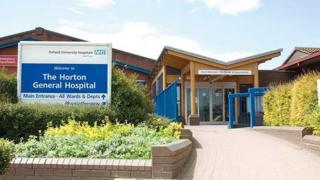 Midwives at Horton General Hospital in Banbury have submitted a formal grievance against their employers.
It follows the decision to temporarily change the unit to midwife led, due to problems recruiting doctors.
The collective grievance - submitted via the GMB union - says staff have not been consulted properly over the change and the impact on their jobs.
Oxford University Hospitals NHS Foundation Trust says it discussed the decision with staff at every stage.
'Morale at all time low'
The GMB's Banbury branch secretary Stevie Robertson said there had been a lack of genuine consultation and that staff "feel like they have been dictated to".
He said: "morale is at an all time low...a number of staff are in the process of giving in their notice because they feel so strongly about the way they've been treated."
Mark Power, director of workforce at Oxford University Hospitals Trust, said its contracts of employment allow it to vary where employees work within the trust, where this is in the interests of safe and effective services".
"We have tried, as far as is practicable, to accommodate individuals' wishes and preferences, but acknowledge that this has not been fully possible in all cases," he said.
Mr Power also said a lack of doctors meant it had "no option but to temporarily stop providing an obstetrics service", and that the changes are of "a temporary nature".