Jayden Saxton killing 'could not have been predicted'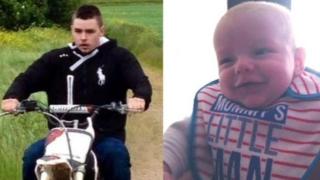 The death of a baby shaken and squeezed to death by his father could not have been predicted by local agencies, a report has found.
The Oxfordshire Safeguarding Children Board carried out a serious case review following the death of 11-week-old Jayden Saxton in 2014.
The boy, named Baby L in the report, suffered 18 bone fractures and multiple brain and spinal injuries.
Jordon Saxton was convicted of manslaughter in October last year.
He was sentenced at Oxford Crown Court to nine years in prison.
The board's chairman Paul Burnett said staff could not have prevented the child's death, describing it as a "terribly sad case with a tragic outcome".
'Caring and responsible'
"The review has found nothing to suggest that any professional could have predicted that Baby L's father would kill his son," he said.
"Having looked very closely at the detail of the case, areas of practice that could be improved have been identified.
"But notably, the review concludes that there is no evidence to suggest that had these improvements been in place at the time, Baby L's death would have been prevented."
The report states Jayden's mother had been known to police because of more than 18 incidents of domestic abuse from more than one partner.
However, not all were recorded with children's social care and none were recorded by GPs.
Meanwhile Saxton, from Faringdon, Oxfordshire, had been convicted for a drugs offence but a probation officer noted his unpaid work as "excellent" and did not believe he would pose any risk to a child.
It was also noted that in meetings between the parents and professionals the couple came across as caring and responsible.