Prodrive HQ installs thousands of solar panels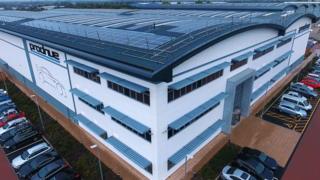 One of the UK's largest community-owned rooftop solar schemes has been unveiled in Oxfordshire.
Low Carbon Hub installed about 2,500 panels at motorsport group Prodrive in Banbury which will generate 636kW of electricity and operate for 20 years.
The project is one of several completed by the Oxford-based social enterprise on schools and businesses across the county over the summer.
CEO Barbara Hammond called the project a "win-win" for all involved.
She added: "It might sound a bit strange given it's Prodrive and they're all about rallying, but they rally in a green way and they have solar panels set into the roofs of their cars, so it was completely within their way of doing things."
David Richard, chairman of Prodrive, said: "As we are developing the next generation of automotive electric and hybrid systems here in Banbury, it was very obvious that we should use our roof space to generate clean energy for the building."