Woman sexually assaulted on footpath in Oxford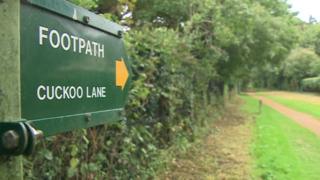 A teenage woman has been sexually assaulted while walking along a footpath in the early hours.
The 19-year-old victim was walking on Cuckoo Lane in Oxford when she was attacked by two men between 01:40 and 02:10 BST on Sunday.
Thames Valley Police said the assault between Pullens Lane and Marston Road was an "isolated" attack.
However, they warned people not to walk alone in the area and have appealed for witnesses.
The first offender is described as white, aged in his late teens to early twenties, about 6ft 2ins tall, with a broad, muscular build. He was wearing a gold signet ring on his left hand.
The second man, also white and aged in his late teens to early twenties, had a broad or fat build, blonde short hair, was clean shaven and wore black jeans.
Laura Oakes, from Oxford CID, said: "We are carrying out a full and thorough investigation into this incident, which we believe to be isolated.
"Although incidents such as this are rare in this area, I would like to advise people against walking alone at night and to try to stick to routes which are well lit."