Call for public money to protect villages from floods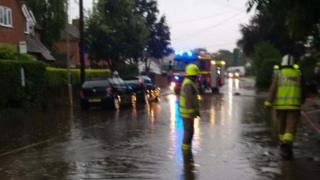 Villages in Oxfordshire which were hit by flash flooding last week "can't cope" with further deluges, a parish councillor has said.
Mark Gray, chair of Cholsey Parish Council, said water levels on Friday were "astonishing".
He said the village - which has been flooded four times in as many years - needed money for its infrastructure.
The Department for Communities and Local Government has been approached for comment.
Analysis needed before action
Parts of Didcot were also hit on Friday and its station was closed.
MP for Wantage and Didcot, Ed Vaizey, thinks "there may have to be some infrastructure improvements" following the problems at Didcot Parkway station.
He said Great Western Railway staff had blamed a drainage pipe outside Didcot Parkway which is too small.
But Mr Vaizey feels "evidence" of what caused them is needed before any action can be taken.
'We have had huge development'
Richard Harding from the Centre for Ecology and Hydrology in Wallingford thinks the amount of development in Didcot may have been a factor.
He said it's increased the amount of hard paving in the area: "the soil was dry underneath the ground but it was just a matter of getting it down into the ground."
Mr Harding believes softer landscaping should be implemented across all new developments to reduce the risk.