Church homosexuality talks 'to remain private'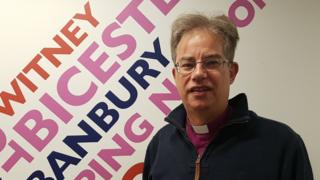 A homosexuality debate by Church of England bishops will remain private to allow views to "deepen and flourish", the new Bishop of Oxford has said.
The College of Bishops met in Oxford earlier this week to discuss attitudes towards sexuality.
The Right Reverend Dr Steven Croft told BBC Oxford talks were "constructive" and would continue through the autumn.
He said the bishops would reveal their conclusions to the General Synod in February next year.
The meeting was held just two weeks after the Bishop of Grantham, Nicholas Chamberlain, announced he was gay and in a relationship.
'Sensitive and challenging'
Dr Croft said this week's meeting "went well" and was a "good constructive time".
He said: "More than 1,300 people have engaged over two or three days, each with what is a really sensitive and challenging question for the churches.
"The bishops will be in conversation during the autumn and we have agreed together that we will keep that conversation confidential so it can deepen and flourish and we will bring something back to the General Synod in February, or possibly in July, next year.
"Then the wider church will then become involved in reflecting on what the bishops have emerged with."