Commemoration service for the Didcot Power Station dead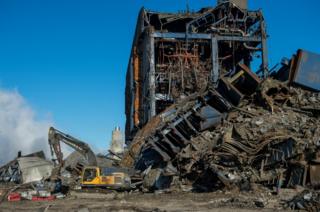 A commemoration service for the four men who died in the Didcot Power Station collapse has been held at the town's church.
In February part of the boiler house, which had been due to be demolished, partially collapsed, killing four workers.
The service, held at All Saints' Church on Saturday, comes after three bodies were recovered from the site.
A fourth victim, Michael Collings, was recovered shortly after the collapse.
'Traumatic period for town'
The remains of Chris Huxtable, Kenneth Cresswell and John Shaw were recovered in the past three weeks following the partial collapse at the Didcot A plant in February.
Wantage MP Ed Vaizey, who attended the service, said: "It was absolutely right to hold the commemoration service today.
"Just as I hope the recovery of the bodies has brought some closure to the families, this was an appropriate way for the community and emergency services to mark the end of traumatic period for the town."
An inquest has been opened and has been adjourned until November.