Little Wittenham sheep drown after being chased by dog into river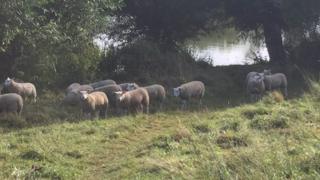 Six sheep have drowned after being chased by a dog into a river in Oxfordshire.
The animals were pulled from the River Thames on the Earth Trust Farm on Church Meadow, Little Wittenham, Oxfordshire, on Thursday.
Five died at the scene and the sixth later died of shock and water inhalation.
Shepherd Emma Blomfield said she was "devastated to have lost so many animals in one day".
The Earth Trust has urged people passing through the field at the foot of the Wittenham Clumps to keep their dogs on a lead. About 200 sheep and 25 cows graze there.
'Very distressing'
Ms Blomfield said she was "absolutely gutted".
"The sheep have been so happy grazing in Church Meadow over the last week - I've often found them hiding in the bushes and exploring the scrub.
"It's not the dog's fault, I like dogs, but owners need to be more vigilant when walking through livestock as situations with even the most well-behaved dog can escalate quickly."
Chris Parker, farm manager at the Earth Trust, said: "It's very distressing to see animals killed in this way, especially when the accident was completely avoidable.
"This is the second time in a week that sheep have been pulled from the river after being chased by dogs and, sadly, this time there were tragic consequences."