East Oxford flood alleviation scheme approved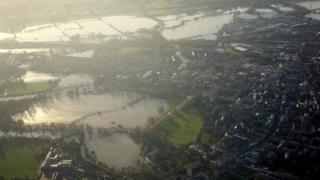 Planning permission for a £2.2m scheme to reduce flooding in Oxford has been granted.
Oxford City Council's East Area Planning Committee gave a unanimous go-ahead for the project in the Northway and Marston wards in northeast Oxford.
It approved the first phase in July. The area was affected by flash flooding in 2005, 2007 and 2012.
John Tanner, board member for a Clean and Green Oxford, said he was "thrilled".
He added: "Oxford City Council is determined to tackle flooding in Marston... I know just how horrendous having your home flooded can be.
"The city council has won £2.2m to reduce the risk of flooding for 110 local families."
The flooding occurs when the nearby Peasmoor Brook and the Headington Hill Tributary overflow.
Some properties in the area have been flooded within 30 minutes of torrential rain.
The plan involves creating flood storage areas, where water will be channelled and later released into drainage and waterways, with flood alleviation work taking place at Westland Drive, Saxon Way, Oxford Boxing Academy, Court Place Farm Recreation Ground, and Peasmoor Piece.
The council, which received funding from the Oxfordshire Local Enterprise Partnership Local Growth Fund and the Environment Agency, intends for the work to be completed by next summer.