Banbury office block housing development 'a win-win'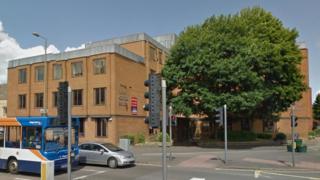 A vacant office block in a town centre redeveloped into 39 affordable flats is ready to accept its first tenants.
Town Centre House, built in Banbury in the 1980s, had lain empty for 10 years.
Cherwell District Council secured more than £1m in grants from the Homes and Community Agency to fund the refurbishment.
A councillor said the project, which has been backed by Banbury Young Homelessness Project, was a "win-win situation for everyone concerned".
'Fantastic use'
John Donaldson, the council's lead member for housing, said: "Not only have we provided much-needed affordable housing opportunities but we have made fantastic use of a key building in the centre of town.
"Town Centre House has stood empty for far too long and it's great to bring this prominent site back into use.
"It's worked well for us here and is the type of project every council should be doing."
The one-bedroom apartments will start from £126.27 per week and are available for people on the council's housing waiting list.
Tenants will get access to an employment coach to help them look for work or improve their current job prospects.
'Considerably cheaper'
"We can compare these modern, one-bed flats at about £600 a month rent when young people are paying £700 just for a room, so this is a good deal. It's considerably cheaper than similar flats in the private sector.
"But people have got to engage with this arrangement. Those who are most in need and engage with the support on offer will get the greatest benefit."
Tim Tarby-Donald, spokesman for the homelessness project, said: "This will give people the chance to get into something that everyone else has."
All 39 flats are expected to be occupied by early next year.