Oxford bridge murals combat graffiti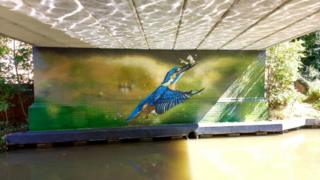 A community in north Oxford has pulled together to combat graffiti on bridges by commissioning graffiti artists to paint colourful murals instead.
Detailed renderings of kingfishers, shire horses, swans and dinosaurs have been painted onto the Elizabeth Jennings Way and Frenchay Road bridges.
Tom Cox, who oversaw the Oxford Canal Mural Project on the Waterways estate, called the results "stunning".
Resident Adrian Olsen said they improved the look of the area.
He added: "We wanted to make a good impression for people coming into Oxford on the towpath or on the narrowboats because all they saw was graffiti and that must have been a horrible impression.
"It's engendered quite a lot of community spirit… so that has been an enormous spin off benefit."
Mr Cox said: "The community were saying the graffiti was a problem and they really wanted to tackle it in a positive way, so using the artwork and working with the graffiti artists has hopefully created the right atmosphere.
"The feedback we had from passersby while we were doing the paintings showed they really appreciated what we've done.
"The community have really pulled together, they've painted railings, archways, put the anti-graffiti coating on, so it's really helped to galvanise them."
The project is a partnership between the Canal & River Trust, the Waterways Management Company, the city and county councils, police, residents, and boaters.
"Free walls" where graffiti is allowed are being piloted elsewhere in Oxford in a bid to reduce vandalism.
The initiative includes commissioning street art and the removal of unwanted graffiti in other areas.
More than 1,700 acts of graffiti were reported in 2015 compared to 350 in 2012.