David Cameron joins Horton Hospital maternity row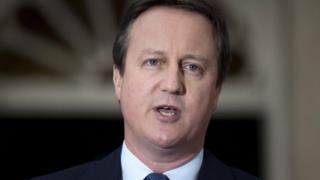 Former Prime Minister David Cameron has stepped into a row over plans to temporarily downgrade a maternity unit because of a shortage of doctors.
Banbury's Horton General Hospital's service will be midwife-led, rather than consultant-led, from October.
Mr Cameron, MP for nearby Witney, said the unit "won't be able to look after all mothers' needs".
Oxford University Hospitals NHS Foundation Trust said doctors would be recruited as soon as possible.
Mr Cameron said: "Local mums want to have their babies in their local hospital.
"That means we need a consultant-led service at Banbury and the Horton should be large enough to sustain one.
"The importance of this service to local people is very clear to see from the public outpouring of concern at the temporary suspension.
"Myself and other local MPs will be working together to ensure that every option is considered and that every potential obstacle to these recruits is addressed."
Medical director Dr Tony Berendt said the trust was "absolutely committed" to recruiting the doctors.
He added: "We have now run four rounds of advertisements and applications for those posts.
"We've had a variable number of applicants and unfortunately the majority of the doctors who were offered those posts have subsequently withdrawn from them."
Hospital bosses revealed in June they might have to downgrade services because there were not enough obstetricians to provide a "safe and effective service".
Specialist services will be transferred to Oxford's John Radcliffe Hospital.
However, campaigners said the lives of mothers and babies would be put at risk.
Banbury MP Victoria Prentis called the plan "terrifying", and led a demonstration which drew thousands of protesters.
A petition with 17,000 signatures against the plan was delivered to a meeting on Wednesday where the suspension of services was approved.