Safe cycle path event cancelled over traffic fears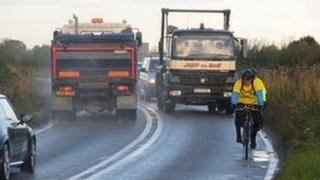 A charity bike ride to support the building of a cycle path along a busy road has been cancelled because the route has been deemed too dangerous.
Bike Safe has campaigned for a safe cycle route along the B4044 between Eynsham and Botley in Oxfordshire.
Thames Valley Police said it could not allow an event with so many "inherent hazards and risk".
The charity says the decision vindicates its campaign for a dedicated cycle path.
'High risk'
Dozens of cyclists were due to take part in the charity ride on 11 September, in support of the campaign to build a path along the five-mile route.
A business case prepared by the campaign group estimates the path would provide £12m of benefits in better health and reduced traffic congestion.
There is currently no provision for cyclists and pedestrians along the route, which has a 50mph speed limit along most of its length, and carries a large number of lorries, buses and cars.
Thames Valley Police said it could not allow the event to take place without closing the road.
Oxfordshire County Council said without a road closure the event would be "too high risk".
It added there would be "opposition from various residents and businesses who would be adversely affected by the road closure".
Organiser John Blackie said: "We can understand why the council and police believe that the road is too dangerous for families to cycle along.
"That's exactly why we have been campaigning for years for an off-road path that will benefit everyone, cyclists and drivers alike."
Bike Safe has previously presented a petition with more than 3,000 signatures in support of the safe cycle path plan to the county council.
A modified event will now take place in Eynsham only, with visitors urged to make their own way there.