Cherwell council 'defective' roof sign-off 'cost homeowner 80k'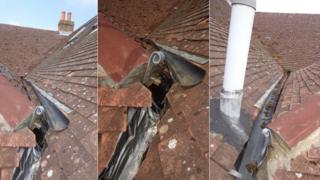 A homeowner claims he has been left up to £80,000 out of pocket after "defective" work was signed off by a council building inspector.
Christopher Harris had a new roof built on his home in Charlton-on-Otmoor but within months found it was leaking.
Cherwell District Council had told him it complied with building regulations but the Local Government Ombudsman ruled it did not inspect it properly.
The council said it was an issue between Mr Harris and his builder.
Mr Harris, who did not want to name the company who carried out the work, said the leaking roof caused mould and damp in three rooms and led to him moving out for two months.
Temporary accommodation and legal fees cost him between £50,000 and £80,000, he said.
'Ashamed'
He said the council's building inspector should never have signed a certificate in August 2104 confirming work complied with building regulations.
Mr Harris added: "The plaster started peeling, and it felt very cold and damp to touch. I lived like this for several months, far too many.
"Cherwell Council should feel thoroughly ashamed of themselves for what they have put me through."
The ombudsman said in its report it was "not persuaded the council has demonstrated it took all reasonable steps to satisfy itself the work met the requirements of the building regulations".
It added: "Photographs of the roof... suggest that had the officer inspected the roof properly the defective work would have been apparent."
'Not liable'
The authority said it was reviewing "its building control record keeping" and an external review would "identify further opportunities for improvement".
But a spokesman said it maintained it was not liable for the damage and added: "A building regulations certificate is not a guarantee that all works have been done to the required standard.
"Primary responsibility for the building work rests with those who commission it and those who do the work."