UKAEA warns of hi-tech skills shortage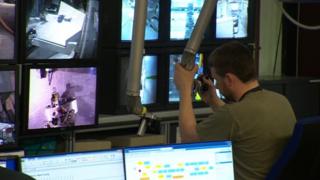 Oxfordshire's economy will be hit unless a hi-tech skills shortage is addressed, according to the UK Atomic Energy Authority (UKAEA).
Its chief operating officer, David Martin, said he started as an apprentice but "unfortunately they went out of fashion.... and that's caused this skills shortage".
The UKAEA has announced plans for a £12m training centre for apprentices.
The centre launches next month and will take 125 apprentices a year.
It will initially operate from an existing building at the UKAEA's base in Culham near Abingdon while work on the £12m facility is carried out.
'Borderline desperate'
Mr Martin said there would be costs if the skills shortage was not addressed.
"It will hamper growth, companies won't be able to contribute to their own bottom line, to the growth of Oxfordshire, and ultimately to the UK," he said.
The chief operating officer, who started his career as an apprentice in 1975, added: "Families believe that the academic route is the right route for every child, but I don't think it is - it certainly wasn't for me."
The training centre is to be called Oxford Advanced Skills, and will be managed by JTL, a training provider specialising in the electrical sector.
Mark Syrett from JTL described the skills shortage in hi-tech industries as "borderline desperate".
He said: "I'm not going to say we are past the point of no return but we are getting pretty close to it."
Funding for Oxford Advanced Skills was announced by Jo Johnson, minister for universities, science, research and innovation, in May.