Work starts to change junction in Oxford's £6.7m Frideswide Square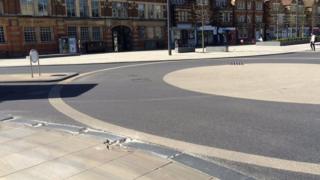 Drivers can expect two weeks of delays while a £6.7m junction is changed to avoid further damage - just months after it was completed.
Three roundabouts were completed in Oxford's Frideswide Square in December, but the turn from Hythe Bridge Street was branded "impossible" for coaches.
Work has started to slightly alter the kerb outside the Royal Oxford Hotel.
The county council said it would also repair and strengthen a very small area damaged by vehicles going over paving.
'Minor alterations'
It previously said the damage was caused by vehicles being diverted by work to redevelop the Westgate centre.
The repairs also follow earlier work in May this year.
County councillor for transport David Nimmo Smith said: "This was an innovative complex scheme and it is not unexpected that minor alterations and repairs are necessary following a period of bedding in."
There will be one-way road closures and diverted bus routes in the area. A full list of the changes can be found on the council's website.
A spokesman said: "Disruption and delays are to be expected, however, we will of course be working to keep disruption to an absolute minimum."