Councils criticised over 'dead' devolution plans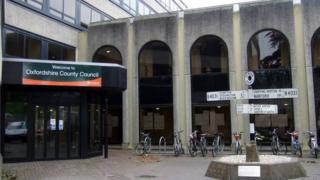 Councils in Oxfordshire have been accused of a "turf war" over devolution plans that have now been abandoned.
About £200,000 was spent by the local authorities on two rival reports on how to restructure the county's services.
The five district councils' recommended creating three new unitary authorities for the county, while the county council argued in favour of one.
Both sides have been told by the government they need to reach a consensus.
Oxford City Council leader Bob Price said the entire process was now "dead" because the councils could not agree.
The city's Liberal Democrat leader Andrew Gant said the exercise resembled a "turf war".
He said: "We've had the expensive shambles of public money being spent on alternative reports to back up alternative views.
"It appears the leaders have backed away from trying to salvage anything from this process."
Oxfordshire County Council leader Ian Hudspeth said it was "clear that real progress will only be made through joint working with the districts".
In a joint statement, the district councils said it was "important all councils now take time to fully consider all of the evidence".