Teenagers 'verbally abused' in rainbow flag row town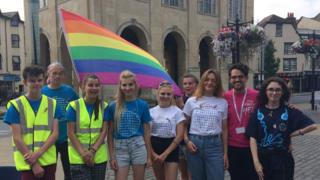 A group of teenagers campaigning against a town's decision not to fly the rainbow flag say they have received homophobic insults from passers-by.
The 15 to 17-year-olds organised an event to support the annual Oxford Pride in Abingdon town centre.
They said they were "shocked" by the negative responses, which came mainly from "older generations".
Pride chair Rob Jordan said it showed why the council to had to show support for its LGBTQ community.
Important issue
The event took place in the wake of Abingdon-on-Thames Town Council's refusal to fly the rainbow flag from the town hall to support the Pride event in 2017.
It said flying the rainbow flag would set a precedent for other flags to be flown in the town.
Campaigners said they were "shocked and appalled" and, following pressure from a local MP, the council agreed to set up a working group to review the "raising of flags and banners".
The group of nine young people, some of whom identified themselves as LGBTQ (Lesbian, Gay, Bisexual, Trans and Queer), were working as part of their National Citizen Service (NCS).
They received a number of homophobic comments as they tried to raise money and talk to people about the issue.
'So shocked'
One man said he would "not let a gay babysit children".
"I was so shocked because in our generation people aren't against the LGBTQ community," said Serena Harrop, 16, from Berinsfield.
"We are just trying to raise awareness that some people are gay and that it's a normal thing."
NCS team leader Abdulla Omaigan said he was "really impressed" with the maturity the teenagers showed.
Mr Jordan said he was not surprised, but it showed how important the flag issue had become.
'Valued community'
"If councillors think Abingdon is a hotbed of equality, well it is not," he said.
"The teens didn't deserve any of this abuse. This is why we need this kind of support, because this level of abuse is still there."
The leader of Abingdon town council Mike Badcock said he wanted to reassure all people in the town they were "valued members of our community".
"I note that the alleged incidents have been linked to our decision regarding the flying of the rainbow flag," he added.
"I am extremely disappointed that the reasons for the council's decision in this regard continue to be misinterpreted, it would appear wilfully by some.
"We would always advise that where there are any such incidents they should always be reported to the police."