Ex-Top Gear presenter Chris Goffey slams mobile library cuts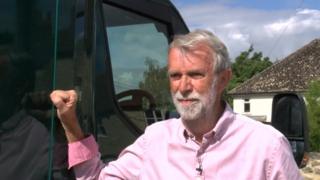 A former Top Gear presenter who works as a driver for a mobile library service has described the decision to axe it as an "absolute travesty".
Oxfordshire County Council will stop operating the six vans from next month, as part of £1m savings to its library service.
Chris Goffey said cutting them was "stupid" and "crazy".
The council said it was expanding its volunteer-based home library service for people with mobility issues.
In the last year 190,238 items were borrowed from the county's mobile libraries, 59% of which were borrowed by children.
Mr Goffey, who co-hosted Top Gear in the 1980s and 1990s, said the decision made by the council in February had made him angry.
He added: "It's a sophisticated service and they're throwing it away… I thought we wanted to teach kids to read.
"Old people have lost the ability to go to their own library because the council has cut the subsidised bus services… it's bringing literacy to the villages and to the young people.
"You can't put a price on that."
Bernie Balfe, chair of governors at Middle Barton Primary School, said the school had set up its own library in response to the impending loss of the service.
She said: "When it came every child visited and it was really exciting for them to clamber up those high steps.
"It seems to hit the young and then the old when there are cuts made."
A council spokesman said it was still operating 43 branch libraries "despite obvious financial pressures".
He added: "We know many people are disappointed about the loss of mobile libraries, but we would encourage Mr Goffey - or anyone else with a passion for spreading the joy of reading - to get in touch with us to find out more about volunteering for the home library service."
---
Items borrowed from Oxfordshire mobile libraries (including books, DVDs, audio books and CDs) per financial year
| | |
| --- | --- |
| 2011 - 2012 | 269,126 |
| 2012 - 2013 | 245,722 |
| 2013 - 2014 | 220,382 |
| 2014 - 2015 | 200,901 |
| 2015 - 2016 | 190,238 |