Memorial to WW1 hero 100 years after 'incredible bravery'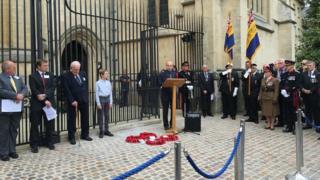 A memorial to honour the only man awarded two Victoria Cross (VC) medals for bravery during World War One has been unveiled in Oxford.
Noel Chavasse received the first award for his work as an army doctor during the Battle of Guillemont when he rescued about 20 wounded soldiers.
His second VC was awarded posthumously for tending to the wounded during the Battle of Passchendaele.
A special paving stone was laid to mark his actions 100 years ago.
'Incredibly brave'
Some 33 members of the Chavasse family stood alongside representatives of the armed forces for the ceremony at 36 New Inn Hall Street, where he was born.
Mary Chavasse, Noel's nephew's wife, from Oxford, said he was "incredibly brave because he went through the firing lines, pulled people out of the trenches and took them back to the military hospital".
Mark Damazer, the master of St Peter's College where Chavasse was baptised, said his "heroism and duty... is of an order of magnitude that is difficult to comprehend".
"He was clearly an extraordinary man who did extraordinary things in extraordinary times, and we can only marvel and give thanks," he said.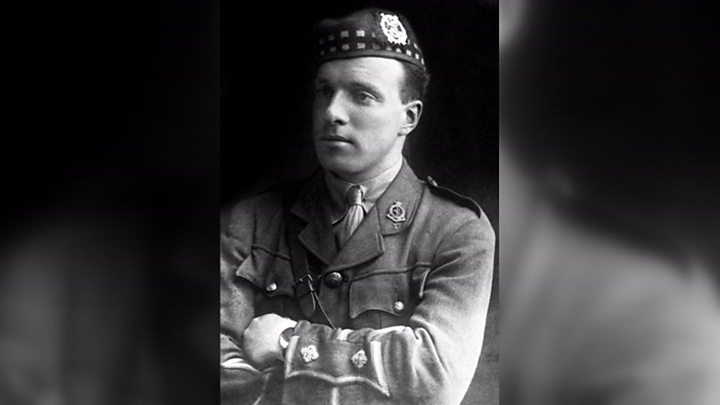 The first VC was awarded to recognise Captain Chavasse's actions on 9 August 1916 at Guillemont, France, during the wider Battle of the Somme.
Under heavy fire he rescued about 20 wounded soldiers from the battlefield, including three men 23m (25 yards) from enemy trenches, and buried the bodies of two officers.
His second VC was awarded posthumously after he went out repeatedly under heavy fire to search for and attend to the wounded during the Battle of Passchendaele, despite being badly injured himself.
He died of his injuries on 4 August 1917 and was buried at the Brandhoek New Military Cemetery in Belgium.
Lord Lieutenant of Oxfordshire, Tim Stevenson, said: "To be awarded the Victoria Cross twice emphasises why Captain Chavasse is being remembered a century on and will no doubt be remembered for many years to come."
His second VC will be commemorated in November at Magdalen College School.
Captain Chavasse is the only person to have received the VC twice for actions during World War One, but two other men have also received the VC twice.
Surgeon Captain Arthur Martin-Leake was honoured for his bravery in the Boer War in 1902 and in World War One in 1914 and Captain Charles Upham was honoured twice during World War Two in 1941 and 1942.