Utah state wants namesake dinosaur model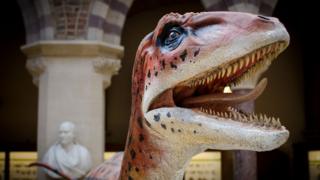 The US state of Utah and a church are among the new homes suggested for a life-sized dinosaur model being given away by a museum.
The Oxford University Museum of Natural History has offered the four-metre long utahraptor predator free to whoever makes the most convincing case.
Staff said they were "bowled over" by the response to their appeal and have received 199 requests so far.
Schools, museums, science centres and a church have made submissions.
Potential venues will require a clear floor space of 1.6m by 1.2m (5ft by 4ft), plus some additional room for its tail.
'Intriguing possibility'
Spokesman Scott Billings said: "It seems that everyone wants to own their own dinosaur.
"We have had calls from across the British Isles, and many from much further afield.
"Perhaps the most intriguing possibility is the request by a number of people in Utah, the US state from which the Utahraptor receives its name.
"However, it's more likely that we will try and find a suitable home in the local region, ideally somewhere with a public space."
The model has been owned by the museum since 2000, but has been languishing in its collections store since 2014.
Anyone who wants the raptor can fill out the submission form by the end 5 August.