Plans for 1,280 homes near Banbury given planning permission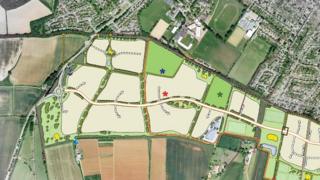 Plans to build up to 1,280 new homes on greenbelt land south of Banbury have been approved despite local objections.
The development is on a 52-hectare piece of farmland between Bloxham Road and White Post Road in nearby Bodicote.
The site is also set to feature a primary school, community centre, and recreation facilities.
Residents objected to its impact on traffic, air quality, the sewer system and the appearance of the "historic" area.
Other worries included the expansion of Banbury towards Bodicote and the damage the development could cause to wildlife.
'Efficient use of land'
A new "spine road" is proposed from the A361 to the site's eastern boundary, with access created by a new four-arm roundabout on Bloxham Road.
The two planning applications indicate a mixture of one to five bedroom houses on the site, 30% of which would be affordable.
Also suggested is a neighbourhood centre that includes shops, cafés, takeaways, a nursery, and a doctors or dental surgery.
In their report Cherwell District Council officers said the proposed development "makes efficient use of land in a sustainable location".
They added that it "assists in delivering the small to medium sized dwellings that are recognised as in greatest need in the district".