Rail works 'will cause huge disruption' in Oxfordshire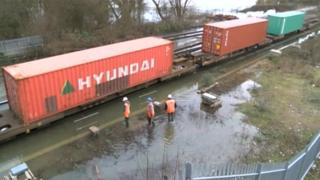 Train lines through Oxfordshire will be blocked from Saturday as two major engineering projects coincide.
The line between Oxford and Didcot Parkway will be closed for 16 days for flood prevention work at Hinksey.
At the same time, nine days of signalling improvements will shut the track between Oxford and Banbury.
BBC South transport correspondent Paul Clifton said the work would be "hugely disruptive", affecting routes to London, Bournemouth and Birmingham.
Replacement buses will run from Didcot to Oxford and to Coventry, and between Bicester North and Leamington Spa.
Chiltern Railways said it expected hundreds of extra passengers a day on the line between Oxford's second station at Parkway and London, and it was laying on thousands of extra seats, although only in the first week of August.
A spokeswoman said the railway would cope in the second week because the trains already had surplus capacity.
'More disruption'
Paul Gentleman, from Great Western Railway, said: "It's never easy when we're having to lay on rail replacement buses and change train services. But we've done this before and we've done it successfully."
The tracks at Hinksey run alongside the River Thames and have flooded 11 times in 14 years.
They will be raised 60cm (24 inches) and culverts will be built to allow water to flow underneath the line.
Separate work in the Banbury area is part of a £76m project to upgrade signals and change the track layout, which Network Rail said would lead to "more reliable" journeys.
Spokesman James Crook said: "Undertaking the works separately would require a second closure, which would cause more disruption for passengers and freight.
"We are also timing the work to coincide with the two-week shutdown of the BMW plant at Cowley."