The Oxford Paper to launch in Oxfordshire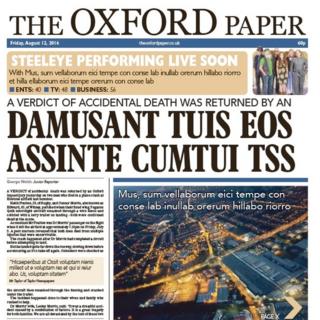 The publishers behind a new paid-for newspaper launching in Oxfordshire claim the publication will be successful because it is unique.
The first 64-page issue of The Oxford Paper will go on sale on 12 August and cost 60p.
Publisher Taylor Newspapers Ltd already prints seven editions of free paper The Oxfordshire Guardian.
Managing director Howard Taylor said he was "confident" the new weekly publication would be a hit.
He added: "One never knows because regional press has been knocked all over the place for the last few years, but unless you're brave enough to try these things you'll never know.
"There's not a lot at stake for us and from the commercial point of view it stacks up well. We hope we're going to be there for the long term."
Elsewhere in the county Newsquest prints 11 titles in Oxfordshire, including the Oxford Mail and the Oxford Times.
Other publications include the Banbury Guardian and Henley Standard.
'Relatively small publisher'
Taylor Newspapers currently prints editions of the Oxfordshire Guardian in Oxford, Witney, Abingdon, Didcot, Wallingford, Wantage & Grove, and Bicester & Banbury.
The new paper will include stories from these, alongside new material such as a What's On guide.
Mr Taylor said it was launched because the company could not keep up with the demand of its free title.
He said: "We've realised it would be crazy to print off more and more copies of our Oxfordshire Guardian paper.
"We're a relatively small independent publisher with 30 staff compared to Newsquest which country-wise has thousands of staff [but] we don't mind the challenge."
The Oxford Paper will not be made available online. It has an initial print run of 7,500 copies which will be sold in about 600 outlets in the county.