Rail service could be 'swamped' during engineering work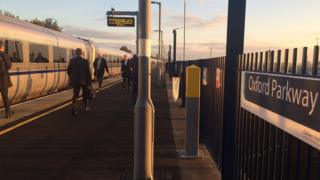 A rail campaign group has warned passengers could "swamp" a main route into London when engineering works close key lines around Oxford.
Network Rail will shut the line between Leamington Spa, Banbury, Oxford and Didcot on Saturday for up to two weeks.
Oxford Parkway to Marylebone will be the only direct route to London and replacement buses will operate.
Chiltern Railways which runs the Marylebone service said it was "prepared" for the increased demand.
Extra services
As part of a £76m upgrade, signalling around Banbury will be replaced, while part of a line south of Oxford will be raised to reduce the risk of flooding.
The line between Oxford and Didcot will shut between 30 July and 14 August, while the line to Banbury will close until 7 August.
From 3 to 7 August, the line between Oxford and Hanborough will close for bridge repairs.
Chiltern Railways said it had laid on "thousands of extra seats", longer trains and extra services during the first week.
Chris Bates from the Cherwell Rail Users' Group warned of a lack of capacity during the second week.
"No one knows how many people will travel," he said.
"I have a lot of sympathy for Chiltern, but I don't think enough contingency has been put in place to persuade people not to swamp the Marylebone route."
Passengers are being advised to work from home, change working hours to avoid peak travel times or take holiday during the works.
Richard Povey, chairman of the Oxford to Bicester Rail Action Group, said the bus service between Oxford and Oxford Parkway station could struggle.
Jenny Payne from Chiltern Railways said the firm was not "overly concerned".
She said reopening the line to Banbury in the second week would reduce demand on services, while extra buses between Oxford and Oxford Parkway would be introduced.