Three locked in Drayton pub cellar at knifepoint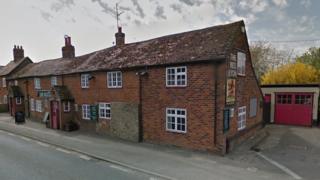 Three people were threatened with a knife and locked in a cellar during a late-night raid on an Oxfordshire pub.
Police said three men entered the Red Lion, in Abingdon Road, Drayton, at about 03:45 BST and woke the residents sleeping upstairs.
Two men and a woman were locked in a cellar at knifepoint while the burglars stole cash and two mobile phones.
A police spokeswoman said it was "a very frightening experience" and the victims were left "very distressed".