Warning over traffic impact on economic growth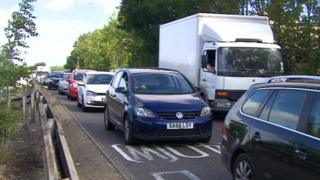 Ever-worsening traffic congestion remains a "key concern for businesses" in Oxfordshire and will constrain economic growth, a new report has said.
Work to improve road infrastructure in the county, it added, was "unlikely to satisfy business expectations".
The report highlighted figures which showed average traffic speeds had fallen to their lowest in six years.
A council spokesman said work to improve infrastructure would "reduce pressure" on key roads.
The Oxfordshire Innovation Engine Update was commissioned by Oxford University, The Oxford Trust and the Local Enterprise Partnership.
'Bigger strategy'
An Oxfordshire County Council (OCC) report earlier this year found the number of vehicles entering Oxford during morning rush hour had risen 10.1% between 2010/11 and 2014/15.
The average speed of traffic in rush hour across the county fell from 14.2mph to 13.1mph, while rush-hour traffic on Botley Road took nearly 12 minutes to travel one mile.
An OCC spokesman said work to improve road and rail infrastructure would make a positive difference.
"These schemes won't work on their own, they are part of a bigger strategy," he said.
"In particular we also have to tackle traffic growth and there are proposals for mass transit, walking and cycling."