Council warns of 'wave of hostility' after Brexit vote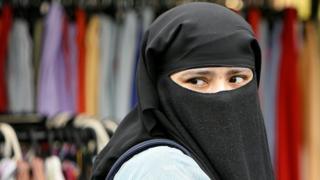 Ethnic minorities in Oxford have experienced a "wave of hostility" since the EU referendum, city councillors have warned.
A rise in "casual racism" reported to them showed a minority saw the Brexit vote as a green light to abuse people.
The call comes after a Muslim woman in Oxford condemned the police response after she was called a terrorist during a road rage incident.
Thames Valley Police said it took hate crime "extremely seriously".
'Right to abuse'
In a motion to be debated at Oxford City Council later, a cross-party group of councillors will say "the tenor of the Leave campaign has stimulated a wave of hostility towards migrants and ethnic minorities".
"A minority is using Brexit as a right to abuse people," said Councillor John Tanner.
"We must stand up and say this is unacceptable. It's making life intolerable for many people."
More than 6,000 hate crimes were reported to police in England, Wales and Northern Ireland in the wake of the EU referendum.
The overall level was up 20% on the same period in July 2015.
Owen Jones from Hope Not Hate, an organisation that tackles hate crime, said since Brexit "people who are racist are more willing to express those views".
'Determined to tackle'
The motion comes as a Muslim woman from Oxford said she had been the victim of racial hatred while driving earlier this month.
The woman, who wanted to remain anonymous, said she was called a "terrorist" by a man who forced her to pull over.
She has criticised the police response, saying officers left her feeling she had no protection.
"If that point of protection is against me, then where do I turn to?" she said.
Thames Valley Police said it was "investigating the incident", adding it was "determined to tackle race hate crime by working with communities and partners".