Oxfordshire 'no longer worst' for bed-blocking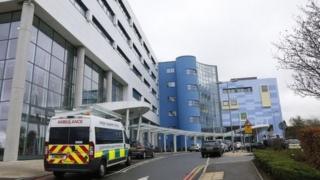 So-called "bed-blocking" in Oxfordshire has reduced significantly, bucking the national trend.
In June 2015 the county was the worst in England, with an average of 131 patients a day unnecessarily in hospital, but figures show this has since reduced by more than 45%.
The county's clinical commissioning group said it was due to "targeted spending and excellent co-operation".
The group funded a £2m initiative to offer temporary care beds to patients.
The number of delayed transfers of care have fallen in Oxfordshire, even though they have risen 25% nationwide, between May 2015 and May 2016.
'Encouraging figures'
Delayed transfer - sometimes referred to as bed blocking - is when a patient cannot be discharged from hospital as community care has not been organised in time for his or her release.
The issue can result in the cancellation of elective (non-emergency) surgery and significantly reduces a hospital's capacity to treat more patients.
In December last year, Oxfordshire Clinical Commissioning Group (CCG), which oversees the county's healthcare system, put £2m into tackling the problem by offering temporary care home beds before permanent care was provided.
CCG chief executive David Smith said: "These encouraging figures demonstrate that targeted spending and excellent co-operation between the NHS and our social care partners have made a real difference to many older, frail patients."
Director of clinical services at Oxford University Hospitals NHS Foundation Trust Paul Brennan said: "We would've hoped to have been at the position we are in now at the end of March.
"It's taken us slightly longer but, having said that, I think the achievements by staff have been fantastic."