University College, Oxford to increase intake of disadvantaged students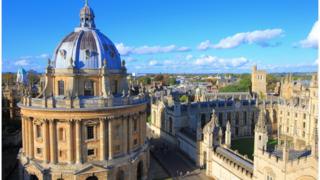 An Oxford college is increasing its undergraduate intake to ensure people from disadvantaged backgrounds can attend the elite institution.
University College will increase its intake by 10% from October 2016, with these places only available to people from deprived backgrounds.
It will offer these students a four-week "bridging course" before term to acclimatise them to university life.
The college's head said it created a "new opportunity" for students.
In 2015 the college, among other Oxbridge institutions, was criticised for the ratio of state school-educated students, in comparison to the number of people who came from the independent sector.
The Social Mobility and Child Poverty Commission found that 48.3% of its pupils came from comprehensives.
The college will provide students with a four-week summer programme to prepare for the rigours of study, which will include a £500 grant for each student.
The college will specifically target students from lower-performing schools and living in areas of socio-economic deprivation.
Master of University College Sir Ivor Crewe said: "In offering new places, we're not reducing anyone else's chances of gaining a place at University College - we're creating a new opportunity for new students."
Oxford University vice-chancellor Prof Louise Richardson said: "I am delighted to welcome University College's creative new initiative to bring to Oxford more smart students from disadvantaged backgrounds and to provide them with an innovative bridging programme to help ensure that they thrive here."