Escaped llamas home after being herded by villagers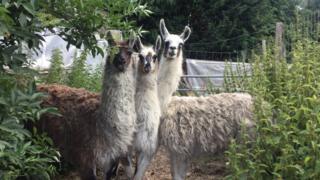 Three llamas that escaped from a farm have returned home four days later after being herded by villagers.
Patches, Star and Tri escaped from Home Farm in Long Wittenham, Oxfordshire, on Sunday, and alarmed residents by peering into their windows.
Passers-by on bikes acted as herders to get the animals to cross a busy road back to the farm.
Their owner said he would invest in some padlocks for his gate to stop them from escaping again.
The family of llamas were spotted in residential areas of Saxon Heath and on the main road from Didcot to Clifton Hampden.
They got back to Home Farm on Thursday evening after residents herded them across the road.
Steve Castle, owner of the mother and two children, said: "We had people on bikes helping and together we got them to cross Little Wittenham Road, because had been too frightened to cross. They don't like traffic.
"People were stopping and saying 'is there anything I can do?' We just needed plenty of bodies to get them to go in a definite direction.
"As soon as they were across they ran straight back to their field."
The farmer added: "The male gave them a bit of a roasting when they got back and chased them around the field.
"I'm going to put padlocks on all the gates from now on."