Five things from BBC Oxford
1 Didcot boiler house demolished
There was a spectacular, if melancholy, sight early on Sunday morning as the boiler house at Didcot power station was brought down by a remote demolition.
The building - which partially collapsed in February killing four men - had been too unstable to be approached afterwards.
Search efforts for three of the unrecovered bodies have now resumed.
Afterwards Wantage MP Ed Vaizey said he had written to the chairman of site owner RWE NPower suggesting the company funds a memorial to those who lost their lives in the tragedy.
There was also a scare on Monday when residents took to social media when it appeared the chimney at the site apparently vanished, leading to fears it had accidently collapsed.
It turned out the tower was still standing and had just been shrouded in fog.
2 Dinosaur looking for good home
If a four-metre long carnivorous dinosaur model is just what your school, community centre or library is lacking, then you could be in luck.
The Oxford University Museum of Natural History has a fearsome utahraptor which will be given away free of charge to whoever puts forward the best case.
It has been owned by the museum since 2000, but has been languishing in its collections store since 2014.
Just imagine the Jurassic larks you could have...
3 Surgery success for boy with organs outside his body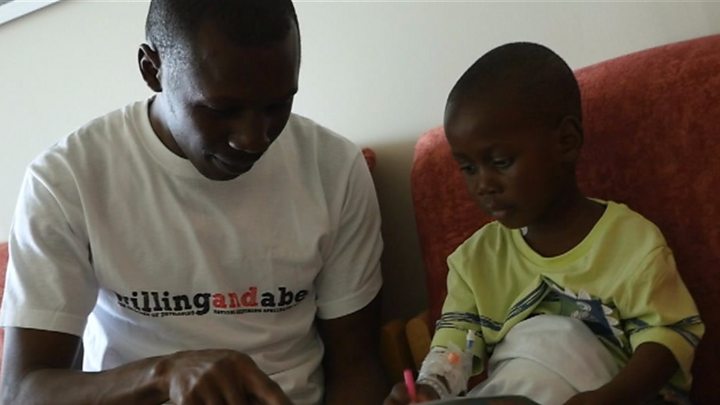 This week we caught up with three-year-old Ethan Suglo and his father Charles after his surgery at John Radcliffe Hospital.
Ethan, from Ghana, was born with organs outside his abdomen.
Charles Suglo commended everyone at the hospital for a "marvellous job" and being "fantastic".
He added: "Ethan is happy, playing, chatting, eating, drinking, so life is back for him. It was a great relief. We cannot express the joy."
4 Police helicopter snaps Oxford by night
Check out these fantastic aerial shots taken of the City of Dreaming Spires by night.
The shots of Oxford after dark were captured by a National Police Air Service helicopter helping with a Thames Valley Police operation.
5 Llamas 'peering into windows' after farm escape
Three llamas - a mother and two children - have been spotted in front gardens in Long Wittenham after escaping from Home Farm on Sunday.
Owner Steve Castle said Patches, Star and Tri are not aggressive, but is concerned for their welfare.
Residents have since reported llamas peeking into their homes, but Mr Castle said the curious creatures have a habit of using windows as makeshift mirrors.
"If they get bored they just go for a wander," he said. "And they like looking at themselves so people with big windows might see them looking at their reflections."