Rollright Stones collision: Fire crews rescue three trapped people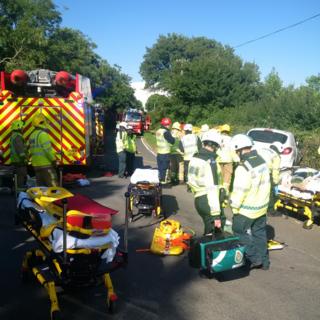 Firefighters were able to locate three people trapped in a car following a crash after the victims realised they were near a famous landmark.
It happened at 16:30 BST on Wednesday near Oxfordshire's Rollright Stones.
Incident commander Chris Wilson said the victims were "dazed, disoriented, the address was vague... crews couldn't establish their whereabouts".
But when the victims realised their proximity to the ancient stone circle "crews knew exactly where to go".
A rescue operation was set in motion and the trapped people were freed with hydraulic cutting gear. There were no serious injuries.
'Petrified by witch'
The Rollright Stones, near Chipping Norton, are believed to have been built over a 2,000-year period, in the Neolithic and Bronze Ages.
According to English Heritage, tradition states the stones were a monarch and his courtiers who were petrified by a witch.
The tourist attraction consists of three groups of stones: the King's Men stone circle, the Whispering Knights burial chamber and the single King Stone.