Oxfordshire children's centres U-turn may be 'too late'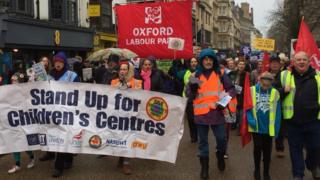 It could be too late to reverse plans to close the majority of Oxfordshire's children's centres, a judicial review has heard.
Oxfordshire County Council's cabinet voted to close 26 of 44 centres in a bid to save £6m in February.
Peter Oldham QC, acting for the council, said: "An awful lot has moved forward - you can't turn back time."
Campaigners claim the council was breaking the law by targeting the centres for closure.
The case at the High Court has been brought by two families who accuse the council's cabinet of not making its final decision with an "open mind".
They believe councillors thought they had no choice but to go ahead with closures because the authority had already taken the decision to cut the budget.
'Uncertainty and anxiety'
The campaigners say the centres provide crucial support to families and should remain open.
Mr Oldham argued the judicial review had not been brought promptly.
"Staff are leaving at a great rate of knots. It's a time of great uncertainty and anxiety," he said.
He said money had already been spent on the building contractor Carillion to provide a new referral service at 18 centres for babies to 19-year-olds.
The council has said the campaigners' claims lacked merit and that a "great deal of work and thought has gone into this whole process".
It had initially proposed closing all 44 centres and replacing them with eight new facilities in a bid to cut £8m. It has to find more than £361m in savings between 2010 and 2020.
The judge did not indicate when he will publish his written ruling.