Free to a good home: One four-metre long utahraptor model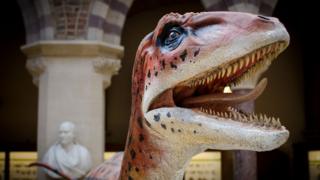 Is a four-metre long carnivorous dinosaur model just what your school, community centre or library is lacking?
If so, the Oxford University Museum of Natural History might have just the utahraptor for you.
The model of the fearsome predator will be given away free of charge to whoever puts forward the best case on the submission form by 5 August.
It has been owned by the museum since 2000, but has been languishing in its collections store since 2014.
'Striking Cretaceous creature'
Potential venues will require a clear floor space of 1.6m by 1.2m (5.2ft by 3.9ft), plus some additional room for its tail.
A spokesman said anyone with "an indoor public space that could house this striking Cretaceous creature" could apply.
He added: "The museum would like interested parties to make a statement about why they feel the dinosaur should move in with them."