Oxfordshire children's homes delayed by collapse of building firm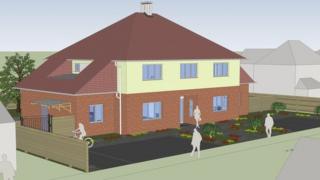 Three new Oxfordshire children's homes have been delayed by up to six months after a building firm went into administration.
Homes in Didcot, Thame and Witney are planned to cater for 20 vulnerable youngsters and keep them from being sent outside the county.
But last month EIC, which won contracts for the three homes from the county council, entered administration.
The council said contractor Carillion had arranged to finish the projects.
In a report the council said the delay had contributed to a predicted £2m overspend for 2016-17 and it would be seeking compensation.
The delayed children's homes are in:
Mereland Road, Didcot - delayed by 10 weeks, now complete
Glebeland, Thame - 28 weeks behind schedule, due to be finished this month
Moorlands, Witney - four weeks behind schedule, due to be completed by late August
A fourth home in Litchfield Farm, Eynsham, is six weeks behind schedule but is being built by a different contractor.
All four homes were planned to cost £7m but a spokesman said they would save at least £500,000 a year by reducing costs from placing children outside the county.
He added the homes will also work with "large numbers of children" at risk of coming into care.
Currently, most of the 500 children in council care are looked after by foster families but about 20 to 30 are sent outside the county at any one time, according to the council.
The home proposed for Didcot is a "move-on" home for four 17 to 19-year-olds preparing to leave the council's care.