Oxfordshire councils 'wasted money' on rival devolution studies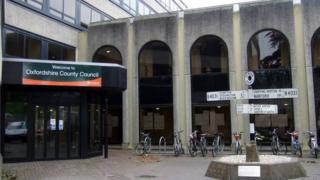 Councils who paid for two rival devolution studies have been accused of a "mind-boggling" waste of money after they agreed to work together.
The reviews cost about £100,000 each and examined different ways of organising services in Oxfordshire.
But the publications of both have now been postponed while the opposing sides "discuss areas of common ground".
Green party leader David Williams described the councils as behaving "like kids in a playground".
In February, the county's district councils asked PricewaterhouseCoopers (PwC) to examine having multiple unitary authorities and doing away with the county council.
But Oxfordshire County Council also commissioned a review by Grant Thornton into having just one unitary authority for the whole county.
Both groups criticised the other for commissioning a rival study and argued their proposals were better.
'Sitting in trenches'
Now all the councils involved have released a joint statement saying after the appointment of a new prime minister and secretary of state, they are putting their plans on hold.
The statement said: "Following discussions with civil servants last week, all the Oxfordshire councils have agreed to work together to discuss areas of common ground, assess potential options and establish whether we can agree a way forward building on the work we have both done to date.
"We have agreed to postpone publication of both the Grant Thornton and PwC studies, and pause plans for consultation until these plans have been jointly developed."
Mr Williams said his party had drawn up its own devolution plan, for three unitary authorities, at no cost to the taxpayer.
He said: "It has been a mind-boggling waste of time and money.
"If they had just sat down together, rather than sitting in trenches flinging mortars at each other and falling out, we wouldn't have wasted six months."