'Economic exclusion' warning as bus subsidies end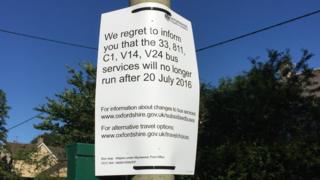 The loss of nearly half of Oxfordshire's subsidised bus routes will bring "economic exclusion" to rural communities, campaigners have warned.
Fifty-four routes will be lost today, out of 118, following the end of council funding.
Another 64 will run commercially in some form, but could also be scrapped if they are not used.
The county council said government cuts meant it had to make savings.
See a full list of the services affected by the subsidy cuts
The authority confirmed in February it would withdraw bus subsidies after a reduction in its budget from central government.
The routes affected make up 9% of the county's bus services, and include routes around Oxford, Bicester and Abingdon.
A pilot not-for-profit bus service to help fill the gap has been launched by the county council.
The Oxfordshire Comet can will run between 10:15 and 14:30 BST Monday to Friday.
But Bus Users Oxford spokesman, Hugh Jaeger, said scrapping bus routes would leave rural communities "more isolated".
"This is all about economic exclusion. More people living in villages will be forced to drive to access jobs and services," he said.
"People will find it harder to get to work and lose opportunities for jobs."
'Difficult decision'
He added that there would be an environmental impact, as more people would drive into towns and cities struggling with traffic congestion.
Council leader Ian Hudspeth said the authority had worked hard with bus companies and communities to provide alternatives.
"Sixty-four routes are remaining in some form and 92% of buses across Oxfordshire are not affected at all," he said.
"If we haven't got the money we can't afford the subsidies. It's a very difficult decision but if the services are not commercially viable then we have to look at alternatives."