MP calls for memorial for Didcot power station victims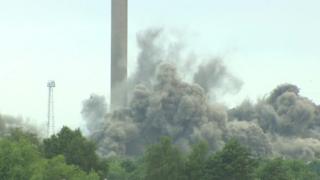 A memorial should be built to those who lost their lives in the Didcot power station collapse, an MP has said.
Ed Vaizey has written to the chairman of RWE NPower suggesting the company funds it.
Speaking after the demolition of the boiler house yesterday, he said it should commemorate those who died in February's collapse.
One man's body was recovered, while three others are still missing.
Ken Cresswell, 57, and John Shaw, 61, from Rotherham, and Christopher Huxtable, 34, from Swansea, were trapped on 23 February.
The body of Michael Collings, 53, of Teesside, was recovered.
'Very appropriate'
Speaking on BBC Radio Oxford, the Conservative MP for Wantage said: "RWE should look very carefully at building a suitable memorial to those who lost their lives and the huge contribution it has made to the life of Didcot.
"That would be a very appropriate thing to do."
His comments come a day after the remainder of the partially collapsed boiler house was brought down in a controlled demolition.
The recovery operation to find the missing men has now resumed.
Sarah Champion, the Rotherham MP who has campaigned on behalf of the families of Ken Cresswell and John Shaw, said they had been "hugely frustrated" about the delays in finding the bodies.
"They just want their husbands, their fathers, home and have a proper, dignified burial," she said.
A spokesman for RWE said the company would "continue working seven days a week, 12 hours a day, to help return these families' loved ones to them as soon as possible".