Police officer who stopped man setting himself alight honoured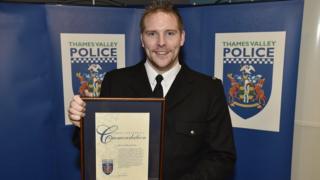 A police officer who tackled a grief-stricken man as he was about to set himself on fire has been honoured for his bravery.
PC Garry Dixon saved the life of a 23-year-old who doused himself in petrol in a garden in Abingdon, Oxfordshire, after the death of his father.
The man had destroyed his dad's shed and threw hammers at PC Dixon and three special constables when they arrived.
He will get a Police Bravery Award at a ceremony in Downing Street later.
PC Dixon then spent more than an hour trying to negotiate with the man
Despite this, the man smashed a hammer over his own head and grabbed a container of petrol, which he sprayed around the shed and at PC Dixon, before producing and sparking a lighter.
'Great courage'
A Thames Valley Police spokesman said: "At this point PC Dixon, in fear for his own life and that of his colleagues, tackled the man to the floor before he had chance to set them all alight."
Graham Smith, chairman of the Thames Valley Police Federation, said: "This incident had the potential for all those concerned to have been seriously injured if not worse.
"PC Dixon showed great courage, leadership, tactical and communication skills that resolved this very difficult and emotional situation."
He also received a commendation from the force's chief constable.
The man later admitted making threats to kill and received a 12-month conditional discharge.