Abbey Meadow Outdoor Pool to be replaced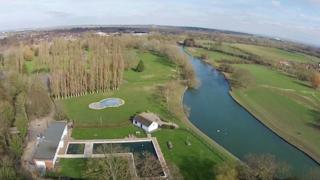 An outdoor swimming pool that was at risk of closure will be completely replaced, it has been announced.
The Abbey Meadow Outdoor Pool in Abingdon was the subject of a petition to keep it open last year after Vale of White Horse District Council carried out a consultation on its future.
The authority has since guaranteed the long-term future of the pool.
But staff have now identified "maintenance issues" that means it requires "extensive work".
It has decided it is more cost effective to replace the "ageing" pool instead of periodically repairing it.
Some repair work has been undertaken to keep it open until mid- September, before the renovations begin.
Council leader Matthew Barber said: "Many people in the Vale are very passionate about the outdoor pool and I have always promised that when the existing pool came to the end of its life we would find a long-term solution.
"Good to our word, we have now reached that stage and will immediately begin working up plans to replace the existing pool."
The council previously announced Abbey Meadows will get a £600,000 makeover, with new play areas, changing facilities, picnic benches and a multi-use games area.
Charlotte Dickson, cabinet member for leisure, said: "We'll continue to press ahead with our plans to improve the wider Abbey Meadow area and will now also free up extra funding to help us realise our ambition of securing the long-term future of the outdoor pool for the Vale community."