Hagbourne Hill road reopens following £6m revamp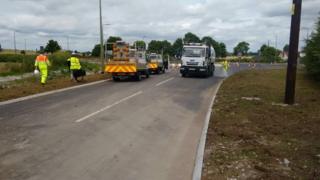 A major road in Oxfordshire has reopened after a £6m revamp.
Works at Hagbourne Hill, near Didcot, included widening the route, laying a new surface and creating a roundabout onto the A417.
David Nimmo Smith, head of transport at Oxfordshire County Council, said the improvements were needed for the sake of the local economy.
He said it would increase access to the Science Vale area, a cluster of science research sites in the UK.
They include Harwell Campus, Culham Science Centre and Milton Park.
Work began in September.
Other improvements consisted of lowering the crest of the hill between Chilton Road and Chilton Village, improving drainage and increasing pedestrian access.