John Radcliffe Ronald McDonald House facility to be built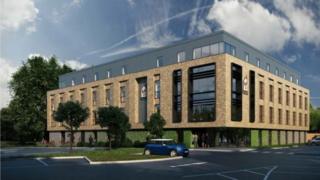 A new £11m accommodation unit for parents of children being treated at Oxford's John Radcliffe Hospital is to be built.
Ronald McDonald House Charities, which provides free accommodation to families with sick children, said the new 62-bed unit would enable more parents to stay.
The application was approved by Oxford City Council on Wednesday evening.
The current 17-bed unit caters for families from across the UK. The charity runs 14 of them in the country.
Karen Steinhardt, clinical director for children's services at Oxford University Hospitals, said Oxford's was the only one where families were asked to leave once their children were transferred out of critical care, because of a lack of space.
She added it was "invaluable" they "could have a bed for the night... have a warm meal cooked in a kitchen, and then be close to their children so they can go back at any point".
The new facility will be built on the grounds of the hospital.
The start date for its construction is yet to be announced.