Terminally-ill Oxford United supporter donates season tickets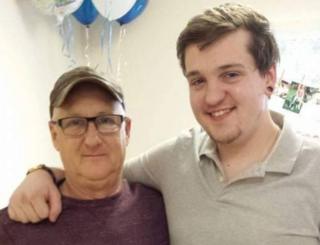 A terminally-ill Oxford United fan who watched his team play "one last time" has donated two season tickets to a children's hospice as a "thank you".
Steve Dyer, 59, was given four months to live when he was diagnosed with bladder cancer in November.
He travelled from America to watch his team play at Wembley in April and was left surprised when the manager invited him to meet the team.
Helen and Douglas House described his donation as an "amazing gesture".
The hospice, which provides care for children and young adults with life-shortening conditions, said it was still deciding how best to use the tickets.
Mr Dyer, who moved from Oxford to Rochester, New Hampshire in 1986, was speaking to BBC Radio Oxford's Kat Orman in February about his bucket list plan to watch the team play Barnsley in the Johnstone's Paint Trophy final.
While he was on air, the BBC surprised him by revealing Oxford United's chairman, Darryl Eales, was also on the line.
'Real supporter'
Mr Eales told the radio station "it puts life into perspective, Steve's courage and eloquence is just stunning", before inviting him to meet the team and watch a training session with his son, Steve.
Mr Dyer described his day as a "wonderful gift and something I will be forever grateful for".
He said: "This season I decided to buy two season tickets. Knowing that I can't make the games, I still want to feel like a real supporter."
He said he made the donation so "someone else can enjoy the mighty Us for me... I gotta tell you. It feels good".
The football club, which lost 3-2 to Barnsley on the day, called Mr Dyer's donation "truly incredible".