Oxford anti-fraud team stop £2.7m Right to Buy cheats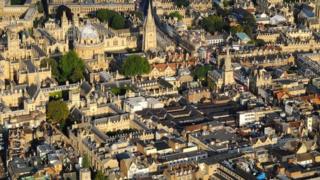 Fraudulent claims made by people trying to buy council homes under Right To Buy legislation rose in Oxford from £385k to £2.7m last year, new figures show.
The city council's fraud investigation team stopped 35 applications in 2015-16, which could have cost taxpayers as much as £77,900 each.
In 2014-15 officers stopped fraudulent applications worth £385,000.
The scheme allows people to buy council houses for a discount which was increased in 2014 from 60% to 70%.
Council finance boss Ed Turner said officers checked every application carefully to make sure they were valid.
He said: "There are very substantial discounts and there will always be a minority who seek to abuse that.
"If they commit fraud they are taking something away from people who actually need it."
Overall, Oxford City Council's fraud investigation team, which was set up in 2014, recovered or saved a total of £3,905,860 last year, up from £2,608,700 in 2014-15.
The team also appeared on BBC documentary Council House Crackdown in July last year.
Margaret Thatcher's government introduced the Right to Buy scheme to allow eligible people to purchase their council houses.
The government announced last year that the scheme would be extended to housing association tenants.