'Human error' blamed for breast cancer diagnosis delays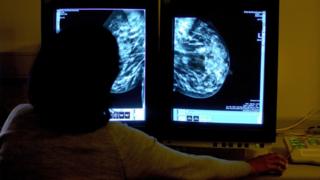 Human error was to blame for 10 women having a delayed diagnosis of breast cancer after assessments in Oxfordshire, health officials said.
A review was triggered after five women developed "interval cancer" in-between routine examinations.
Oxford University Hospitals NHS Trust said the patients were screened by the same doctor between 2011 and 2014.
It said it was "extremely sorry" and that there were now "no concerns" over the screening service.
Interval cancer
The radiologist whose mistakes led to the review with the Oxfordshire Breast Screening Service at the Churchill Hospital had "not returned to this element of clinical practice...", it said.
The investigation was sparked in 2014 when five women were diagnosed with interval cancer, when cancer develops during the three-year period between routine screenings.
While there was no concern with the assessment for one of the five, the incident led to a review of 626 women seen between 2011 and 2014. Thirty women were subsequently recalled, leading to another six diagnoses of cancer.
In its final report, the trust said since March 2014 women now had two radiologists reviewing breast imaging.
It said this was best practice and "reduces the risk for human error which was the underlying cause of the incident".
The trust's medical director, Dr Tony Berendt, said: "I would like to reassure the women of Oxfordshire that there are no concerns about how the screening service now functions. Women can be confident about the quality of the service they receive.
"We are extremely sorry for the distress and anxiety that this incident caused to any women who received a diagnosis of breast cancer and to those women who were recalled as part of the incident investigation."