Oxford flood relief channel site plan revealed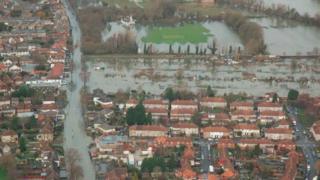 The proposed site of a £120m flood relief channel in Oxford has been revealed.
Flooding caused widespread disruption in February 2014 with homes and major city routes cut off for days - some train services also had to be stopped.
The Environment Agency said the planned channel would run from north of Botley Road to Munday's Bridge, Kennington.
It said the move would reduce the risk of flooding to the majority of 1,800 properties currently affected.
However, Bob Price, the leader of Oxford City Council, warned the Brexit vote could make it harder to find the £20m still needed for the scheme.
Originally the agency thought the scheme would need to extend down to Sandford, and include works at Weirs Mill Stream.
However, it said its investigations had shown "there are better ways to reduce flood risk, which avoid any work to the Sandford area or any permanent disruption to the residential moorings at Weirs Mill".
A public consultation on options for a flood alleviation channel was held between January and March and received 300 responses, the agency said.
The scheme will work by diverting flood water across the open flood plain and away from properties which currently flood, it added.
Details of the scheme, which will need planning permission before construction can begin, will go on public display at The Assembly Room, Oxford Town Hall between 14:00 and 20:00 BST.
Oxfordshire County Council, Oxford City Council, Vale of White Horse District Council, Thames Water and the Oxford Flood Alliance are working with the Environment Agency to develop the scheme.
It currently has funding from central government, the Oxfordshire Local Enterprise Partnership, Thames Regional Flood and Coastal Committee, and local councils, but still requires further cash, the Environment Agency said.
It added the earliest work could begin would be spring 2018, with construction expected to take up to four years to complete.
Oxford City Council's Bob Price said: "Because of the vote to leave [the EU], the impact on the local economy could be significant.
"So businesses which previously would have been able to contribute may have reservations because of their worries about the future."